Iowa State star Jirehl Brock, one of four football players, has been charged with dealing with illegal sports betting…. with Isaiah Lee allegedly betting on his own team.
Iowa State star Jirehl Brock, one of four football players, has been charged with dealing with illegal sports betting…. with Isaiah Lee allegedly betting on his own team.
Jirehl Brock and three other Iowa football players, along with three current or former Iowa football players and a student assistant, were charged Thursday. which involved a state investigation into illegal sports betting at both schools.
A total of 15 football and basketball players and officials associated with the school have been charged since last week in an ongoing investigation. Current athletes face losing eligibility for violating NCAA betting rules.
Brock and ISU teammates Isaiah Lee, DeShawn Hanika and Jacob Remsburg were charged in Story County for falsifying records to fake that they were under the age of 21 to legally gamble at the time the bet was placed.
Former Iowa player Arland Bruce IV and Reggie Bracy, current Iowa player Jack Johnson and student assistant Owen O'Brien face the same charges in Johnson County.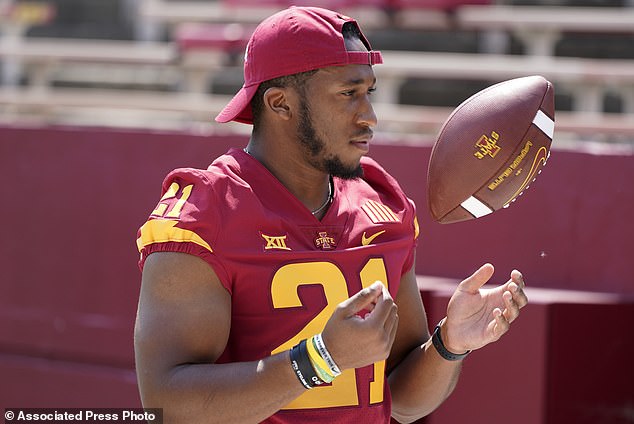 Jirehl Brock of Iowa is among several players charged in connection with illegal gambling.
According to court documents:
Cyclones leader Brock last season made 1,327 illegal bets totaling over $12,000 between February 2022 and February 2023. Bets were made on FanDuel accounts controlled by him. but registered under the name Lindzey Paysen. Paysen's relationship with Brock is unknown.
Brock allegedly placed bets on three Iowa football games, two of which he played, and 13 ISU basketball games.
Lee, a defensive player, made 115 bets totaling more than $885 between September 2021 and January 2023 on FanDuel, of which 21 bets were placed on seven ISU football games in 2021 and five in 2022. Played in each game and allegedly bet Texas to beat the Cyclone in 2021, his account was registered under the name of a woman. Described as his fiancé Kayla Cameron.
Hanika, a tight end, made 288 bets totaling $1,262 between March 2022 and April 2023 through DraftKings, with 70 bets on ISU basketball games. Offensive lineman Burg made 273 bets totaling $1,108 between May 2022 and February 2023 via FanDuel, six wagers on ISU basketball and football games.
Remsburg's account is registered under the name Keri Remsburg. The filing also refers to a DraftKings account registered under his mother's name, Keri Meis. It is unclear whether Keri Remsburg and Keri Meis are the same person.
Bruce, a receiver who started 12 of 25 games before moving to Oklahoma State, made 132 bets totaling $4,342 on DraftKings. last season Bruce plays in each game. His account is registered under the name of Vincent Bruce, who has no relationship with Arland.
Iowa State QB Hunter Dekkers is also accused of gambling on Cyclones sports events.
Defensive Bracy, now at Troy, used DraftKings registered Vincent Bruce to place 66 bets totaling $715 between February and November 2022. He placed eight bets on Iowa sporting events. including the two football games he played.
Walk-on receiver Johnson made 480 bets totaling over $2,500 on DraftKings between September 2021 and January 2023, of which approximately 380 bets totaling $1,800 were made before he reached the age of majority. All are on accounts registered under his mother's name, Jill Johnson.
O'Brien was a student assistant before becoming a graduate assistant in December. O'Brien made 350 bets totaling over $3,047 on FanDuel between March 2021 and December 2022, all on accounts registered under Audra O's name. 'Brien his mother
No attorney is listed in the filings. The Des Moines Register was the first to report the latest charges.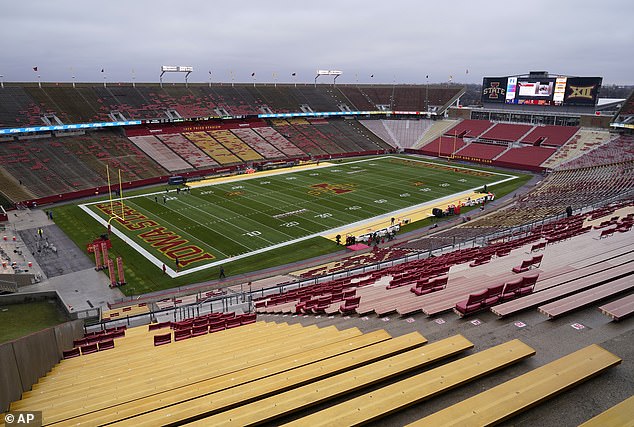 Iowa State acknowledged that 15 athletes in three sports were also suspected.
'Since becoming aware of the NCAA eligibility issues related to sports betting by many of our student-athletes back in May, we have been struggling with NCAA eligibility issues. Iowa State University has been actively working to address these issues with relevant student-athletes. And that process continues,' Iowa state senior athletic director Nick Joos said in a statement.
'We will continue to support our student-athletes. As our compliance officers work with the NCAA to address questions about their future eligibility for the athletics.'
Iowa spokesman Matthew Weitzel said the university had no comment. He said he expects football coach Kirk Ferentz to address the issue on Friday's team media day.
last week A lawsuit was filed against the state of Iowa. Starting with quarterback Hunter Dekkers, ISU offensive lineman Dodge Sauser, ISU wrestler Panioro Johnson, former ISU defensive lineman Eyioma Uwazurike, former Iowa basketball player Ahron Ulis, U.S. baseball player Gehrig Christensen. Iowa and Aaron Blom, players from Iowa.
#Iowa #State #star #Jirehl #Brock #football #players #charged #dealing #illegal #sports #betting… #Isaiah #Lee #allegedly #betting #team